Be The Church
Don't Just "Go to Church" Anymore!
If like me you've grown up "going to church", do you find that the 6 days and 22 hours during the rest of the week leave you asking, "Is this all there is?"
Please read on.
I spent my first few years as a pastor at a really large church near Chicago. I will be forever grateful to the staff I worked with during those years.
My life, character, and theology were shaped in profound ways during that time, and yet I still wondered, was this all there was? Is this what Jesus meant by his Kingdom had now come onto this earth?
Get a free copy of my super-popular eBook, Be The Church, now.
Was I living a transformed and eternally purposed life?
After several years I began to chafe a bit, wondering if Jesus had come so that a few chosen people in a church service could "do" the ministry–put on the show– while pretty much everyone else just sat there, passively and silently watching. Was this what God had in mind? Was this the hope we had for growth and maturity as his people? Was the highest goal for most of my friends to become an usher in the church building… to someday ush with the best of them? Was "going to church" the point…or were we called to BE the Church.
Around this time, I was doing some traveling overseas, and I read and re-read the book of Acts. A very different picture of the church emerged, one that was strikingly similar to what I was seeing and experiencing as I traveled outside the United States. The way that Jesus taught and lived with his disciples, and how they in turn lived, looked a whole lot more like what I was seeing in Africa and India than it did in my own life and church back home.
What would it look like to intentionally disciple each other living together as God's missionary family?
Click To Tweet
I wondered what would it be like to live in real community with others?, not just saying hello to them once a week and shaking hands. I wondered what it would look like to intentionally disciple each other to greater faith in Jesus, living together as God's missionary family, there in my own neighborhood.
There was one huge problem in all of this.
I had zero friends who were not a part of our church! In fact, I hardly even knew my neighbors. I was too darn busy pulling off all the programs that went on throughout the week (after week after week) at the church building.
[Record scratch noise…]
Wait a minute, that doesn't make sense! If I and a handful of other pastors types and leaders in the church are supposed to be role models for the rest of the people, showing them how to live and make disciples as Jesus did, shouldn't pastors have loads of friends who were far from God and on a journey of faith?
Shouldn't we be the rock-stars when it came to loving people living the same way Jesus and his disciples did?
What I've learned is that the way the disciples of Jesus lived was not only in stark contrast to his own culture, but was upside-down compared to everything else at that time, both Jewish and pagan. The pattern of his teaching and life began to emerge that was both profound yet much simpler than I had seen or experienced in my own life. There was an "all in" nature to life in the kingdom of God, but the process for getting in and living out this life was somehow … uncomplicated, less pressured and mustered up, less programmed. Jesus would hang out with and teach his disciples through meals and along the way life lessons that opened up their hearts and minds to a new way of living.
A new way of being.
I want that. I think that everybody wants that.
So much of the structures, programs and politics of "the church" are nowhere to be found in Jesus' teachings or anywhere else in the Bible. I want to challenge you to go deeper, re-read and re-think what was really going on in his life and what he has called us to as his followers. I am not suggesting you "chuck your church" and become a self-proclaimed expert…But I am hoping you'll grab a few close friends and begin the journey…BE THE CHURCH!
Get a free copy of my super-popular eBook, Be The Church, now.
Maybe like myself you're wishing you had started down the road to a life lived authentically in community long ago…as always, the next best time is now!
Here's a question: What is ONE THING that may be keeping you from living like a family on mission–EVERYDAY? And how might that look beyond a week-to-week service attendance?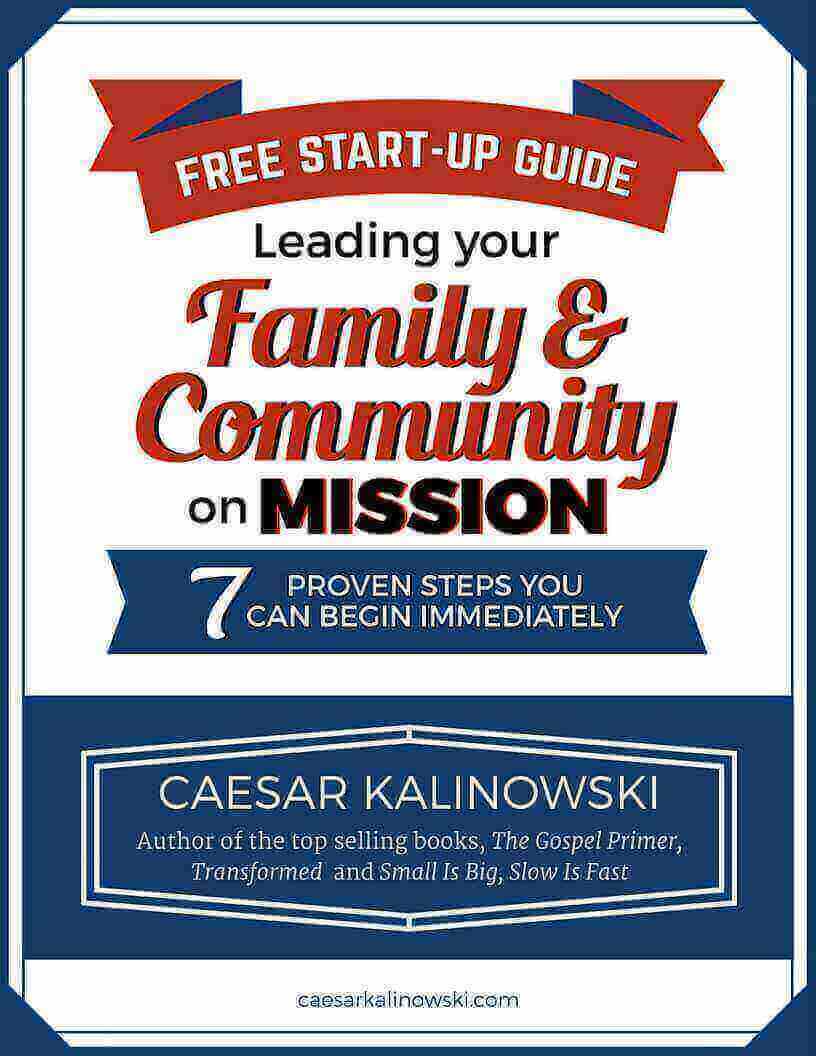 Get This FREE Start-Up Guide: Leading Your Family & Community On Mission

7 Proven Steps You Can Begin Immediately